Healthy U TV
Click here for "Womansformations"
Thanks to Linda and Terri for tirelessly promoting the show to make it something more than we dreamed. Reaching out to the community and putting themselves out there personally takes a lot of courage and I appreciate and thank both of them. If they don't have COX then you can always watch us on www.youtube.com/healthyutv and like us on facebook www.facebook.com/healthyutv.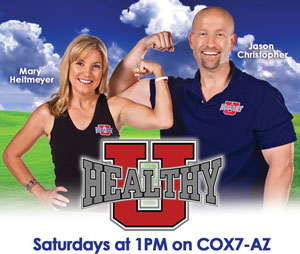 Click here to download the flyer.
Press Release: Healthy U TV 2nd Season Debut June 4th
Media Contacts:
Mary Heitmeyer
mary@healthyutvshow.com
Jason Christopher
jason@healthyutvshow.com
www.HealthyUTVShow.com
Healthy U TV New Season Launches in Phoenix & Tucson June 4th at 1PM on COX7-AZ
SCOTTSDALE, Ariz. (June 1, 2011) – Healthy U TV Show, coined Arizona's "Healthiest TV Series," is raising the bar and fighting childhood obesity both in the classroom and over the airwaves! Healthy U TV Show highlights the best in health, fitness, and more. "We are thrilled to be working with the Healthy U family to bring you health, beauty, and fitness information that's easy to understand and to incorporate into your lifestyle...because Healthy U cares about U!" shares Mary Heitmeyer, Owner & Co Host of Healthy U TV Show. Produced by Sysnia Creative, Volumedia and CXI Media, this upbeat weekly Television series is being featured in Green Living Magazine and will be promoted in the Valley on The Oprah Winfrey Network, Discovery Kids, The Cooking Channel, Fine Wine & Design TV, KFNX Talk Radio and ArizonaSpaGirls.com!
Jason Christopher – who also owns and Co-Hosts Healthy U TV Show says, "We are excited to be working alongside all the great sponsors that share in the same vision...to help Arizonans get healthy!"
Teamed with Jyl Steinback, America's Healthiest Mom - Healthy U TV and its panel of sponsors are proud to announce a percentage of all sponsorships raised to launch the program are going right back into Arizona Schools through Shape Up US! This perfect pairing between the show and Shape Up US was spearheaded by Dr. Karen Jacobson of Jacobson Family Chiropractic who serves as Healthy U's Chiropractic & Wellness advisor.
THE DETAILS:
WHAT: Healthy U TV Show
WHEN: Saturdays at 1:00PM Starting Saturday January 4th, 2011
WHERE: Cox7-AZ, Green Living Magazine, OWN, Discovery Kids, The Cooking Channel, Fine Wine & Design TV, KFNX, Arizona Spa Girls
HOSTS: Jason Christopher & Mary Heitmeyer
SHOW SPONSORS & AFFILIATES: Arizona Wholesale Supply, Jacobson Family Chiropractic, Salad Master, Apollo Group, Viking, Scottsdale Skin & Holistic Health, SYSNIA CREATIVE, 12\29 Project, Dr. Christina Tondora, SWS LLC, Arizona Breast Cancer Specialists, Lipo NOW, Faces by Ci'Felli, RESULTS Fitness, Chef du Jour, Get Image Ready, Carat Soup, Volumedia, CXI Media, Arizona Spa Girls, The MIM, Fresh Mint, Arizona United States Pageants, Design Your Space, Crave Phoenix, PARIS PARIS, Trevor Dayley Photography, Everardo Keeme Photography, Cathy Bourgot, Marnie's Salon
About Jason Christopher – Local Radio Personality on 102.5 KNIX, 95.5 KYOT and 99.9 KEZ – Co-owner of Muscleman Music & More DJ/Event Planning Company Jason grew up like many hearing… "You can't leave this table until you clean your plate". By the age of 8, Jason's weight was out of control and he became the poster child for bullies in school until Jason was finally introduced to weightlifting …2 decades later Jason had a weekly "Health-Nut" segment on Jan D'Atri's "Heart and Home" TV show where he was able to bring different elements of health to the viewing audience including fitness and diet but in a fun, easy to understand format. Jason believes you're never too young to learn about fitness and never too old to start training!
About Mary Heitmeyer – Owner Chef Du Jour Mary's main focus is to provide personalized menus based specifically on optimum health for her clients. Not a clothing size or a number on the scale – optimum health! Mary's healthy menus landed her guest appearances on Fox Arizona, Jan D'Atri's Heart & Home TV Show, Sonoran Living, KTAR, KYOT, Phoenix Business Journal & Luxury Edition, UP Close, Scottsdale & Mesa Tribune, Phoenix Memorial Hospital Press, Yahoo News!, East Mesa Independent, Media Tracks Viewpoints, Arizona Foothills Magazine, Scottsdale Magazine and Phoenix Dining Guide! Now with Healthy U Mary will share easy healthy delicious menus that can be integrated into even the busiest lifestyles. In all, she wants to share her passion and knowledge in a fun learning environment with healthy cooking segments to featured monthly in Green Living Magazine and future episodes of Healthy U TV show!
About Shape Up US - The Solution for Childhood Obesity www.ShapeUpUS.org
Shape Up US is committed to improving American families' health, fitness and overall well-being.
Their mission: "Building a brighter future for children, families and communities" by creating a circle of wellness that works; and promoting health and wellness and thereby preventing chronic diseases.
Shape Up US promotes healthy living for families and communities through 4 comprehensive wellness education programs: The Hip Hop Healthy Heart Program for Children™ A K-6th Grade Program, CHOICE - Nutrition, Exercise and a Winning Attitude A Middle and Secondary Program, Positive Psychology Training An Adult Program, and Shape Up US Wellness Expos For the Community.
Shape Up US is a partner with the President's Challenge Physical Activity and Fitness Program. The goal of the partnership is to provide Hip Hop Healthy Heart Program for Children™, a comprehensive wellness program, for K-6th grade students.
"Shape Up US is so excited to partner with Healthy U TV because we both have the same core beliefs. Healthy U TV makes it simple, fun and they are committed to improving the health, fitness and overall well-being of Arizona's families." Jyl Steinback, Executive Director of Shape Up US.
For more information on Shape Up US, contact Jyl Steinback, Executive Director of Shape Up US
602-996-6300
Jyl@ShapeUpUS.org
www.shapeupus.org
For more information on Healthy U TV Show, contact Jason or Mary, Co-Hosts
mary@healthyutvshow.com
jason@healthyutvshow.com
800.801.3755
www.HealthyUTVShow.com